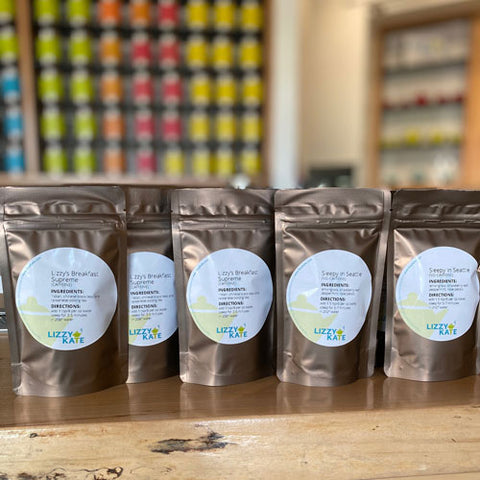 Healthcare Heroes Donation
We've launched a campaign to provide tea to local healthcare heroes. We hope you, our tea community, will partner with us in this project. For every $10 donation, LizzyKate will provide two healthcare workers each with a 1-oz package of tea and paper tea filters to make 8 of cups of tea.
You can donate by purchasing this product. Click the "Add to Cart" button to start. If you want to give more than $10, then simply increase the quantity in the cart.
The back story:
In the early spring of 2020, our neighbor who is an ER doctor ordered large amounts of tea on lizzykate.com. She promised she wasn't hoarding the tea but rather giving it to her ER team. We asked if we could donate some additional tea to her team and she was grateful for the offer.

We bagged up 1-oz tea packages with paper tea filters to make it easy to make tea at the hospital or home. Afterwards, she called to thank us and share that they're seeing more critical patients.

She told us the situation was taking a toll on the medical staff caring for the patients while not getting sick themselves. She also said the tea brings them much needed comfort during these stressful times.

Her response and recent news reports prompted us launch this campaign. We will be reaching out to other healthcare teams. If you are a healthcare worker or know of a local organization we can support, email us and we will follow up.

Thanks to our tea community's amazing generosity, we've donated to:

- EvergreenHealth Medical Center

- Overlake Medical Center

- Highline Medical Center

- Harborview Medical Center Infectious Disease

- PeaceHealth St. Joseph Medical Center

- Kaiser Permanente Washington Health Research Institute

- Kaiser Permanente Bellevue

- SeaMar Community Health Clinic in White Center

- Seattle Children's Hospital
More good news:
In order to offer a moment of relief to those on the front lines of COVID-19, Sugimoto Tea Company is giving away 10,000 TeaPacs for healthcare workers in the Northwest. They are donating 1,000 of these for LizzyKate to include with our donation.
Even in the best of times, healthcare can be a relentless profession. During a crisis, healthcare workers are stretched beyond exhaustion. Our society has a marathon ahead of us, and we want to show our support to those who are going to get us through this, one case at a time. ~ the Sugimoto Team
CC Fine Tea, importers of fine tea from China and Taiwan, also joined our Healthcare Heroes campaign. They donated 60 boxes of tea sachets which we're including with our donations.
We'd like to join your awesome campaign. The front line health workers are our great heroes indeed during this Covid-19 pandemic. We deeply appreciate their hard work and sacrifice. Would you please count us in! ~ CC Fine Tea
Thank you to both tea companies for your partnership!
---
We Also Recommend
---