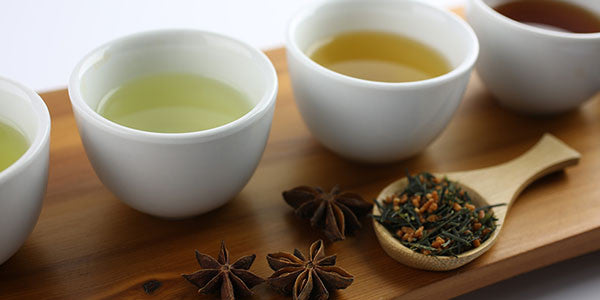 Posted by Amy R at
Matcha is a special type of green tea made from the fine powder of ground tea leaves. Instead of steeping it like you do with green leaves, you whisk it with hot (not boiling) water and consume the entire drink, including the powdered leaf. For many centuries, matcha has been used as a ceremonial beverage in the Japanese tea ceremony. These days you don't have to travel to Japan to experience traditional matcha. Here's an overview of the steps and tools used to make matcha in a more relaxed environment than a formal tea ceremony. Scoop about 1 1/2 teaspoons of ceremonial grade...
Posted by Amy R at
Sencha is the most popular style of tea in Japan, accounting for 80% of tea consumed there. Sencha is known for its nice green color and notes of grass and seaweed. The factors which influence how sencha tastes are the season, processing, cultivar and terroir. The first tea leaves harvested in early spring are made into a special sencha called Shincha (new tea). Tea leaves harvested later in the spring and summer are made into Sencha. Tea plants producing leaves for sencha are usually grown in full sun, unlike other types of Japanese tea (for example, gyokuro and matcha) which...
Posted by Amy R at
Green tea is the original tea made from the camellia sinensis plant. Thousands of years ago the Chinese were the first people to drink tea, and they initially consumed it for the medicinal qualities. From China, tea was introduced to Japan by monks in the 9th century and later to Europe and the USA. Unlike black tea, green tea is not oxidized and the goal of processing the tea leaves is to preserve the green color. Chinese green tea is usually pan fried or air fired to lock in the green color. Most people find Chinese green tea to have...
Posted by Will R at
What is matcha? Matcha is a powdered tea made from a type of green tea called tencha, a partially shade-grown green tea, specifically produced for matcha. After harvesting, tencha is deveined, de-stemmed, and ground to make matcha. Beginning in the 12th century, Japanese monasteries and the imperial court in Kyoto used matcha as a ceremonial beverage. Although it continues to be used for tea ceremonies, over the past few years matcha has grown in popularity as a health food and culinary ingredient. You may have noticed matcha lattes, matcha cookies, matcha smoothies and much more in cafes and restaurants. We...
Posted by Will R at
This month's tea club includes a tea we named Mt. Fuji Noir. It's a Japanese black tea which is very unusual to find in Japan, much less in the US. Last year Amy discovered this tea on a tea tour of Japan that started in Tokyo and ended on the island of Kyushu. As you can imagine, the tour members taste tested many types of green tea including sencha, gyokuro, genmaicha, and matcha all day, every day.  Partway through the tour, one of Japanese tea companies served a black tea to the group. Everyone tasted the tea, smiled and quickly...
Posted by Amy R at
Halfway through my Japan Tea Tour in May 2015, we visited a large matcha processing facility in Uji (south of Kyoto). If you haven't had matcha before, it's a powdered tea that is used in Japanese tea ceremonies. Recently, there's been a "matcha boom" in the US as health conscious consumers add it to their smoothies, baked goods, lattes, etc. There are various grades of matcha, including culinary and ceremonial, and on our tour we were able to see the different processing methods. In order to increase the flavor and color of the tea leaves, the tea plants used for...
Posted by Amy R at
During my Tea Tour of Japan, I learned so much about Japanese tea and tea etiquette and want to share a few insights: When you serve Japanese tea to guests, fill each cup up halfway and then go around again to each cup to finish pouring the tea. This way everyone gets a mix of lightly steeped and longer steeped tea. Keep pouring the tea until the last drop – this is the most flavorful part and called the "golden drop." Pay close attention to the temperature of the water and steeping time. The higher the temperature and the longer...
Posted by Amy R at
In May I traveled to Japan to take part in a Tea Tour of Japan! Dan Robertson of World Tea Tours was the amazing organizer and guide, and the group was a mix of people from the US and UK tea industries. We started in Tokyo and our first stop was Shikuoka near Mt. Fuji. We visited tea fields, several processing plants, a tea museum and a tea auction. As you can imagine, we did a lot of tea tasting at each stop, learning about the differences between sencha, gyokuro, hojicha and other types of Japanese tea. From Shizuoka we...
Posted by Amy R at
At the beginning of every month we send out our Tea Club selections with information about the month's teas along with some tea trivia, recipes, history, tea and food pairings, etc. I figured last month's tea history about the countries where tea started would be an interesting blog post too. The five traditional originating countries of tea are: China: Tea started in China thousands of years ago and was consumed initially for it medicinal qualities. Today China is best known for their pan fired green teas. Japan: Buddhist monks brought steamed green tea from Japan to China in the ninth...
Posted by Amy R at
Matcha is one of the few teas made from powdered leaves. As noted in this matcha blog post, matcha is made from Tencha green tea leaves. The tea plants are shaded by tarps for a few weeks before the harvest. This boosts the chlorophyll, amino acids and other flavor compounds in the tea leaves. One amino acid called L-Theanine provides a relaxing effect when you drink matcha and other green teas. Matcha has a clean vegetal flavor and sometimes people describe it as an acquired taste. If you haven't tried matcha before, you may want to try it in a recipe...