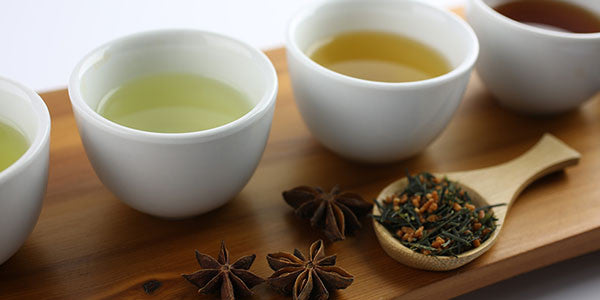 Posted by Amy R at
For a long time we've talked about offering tea sampler sets to allow you to try smaller quantities of multiple types of tea. It was tough to choose which teas to include but we made it happen in time for the holiday season! Each set comes with four 1-ounce samples in a kraft box with our signature tissue paper inside and wrapped in a silver ribbon! These sets are great for any tea lover or tea novice looking to try some fantastic teas. But how do you know which one(s) to choose for yourself or for a gift? Here are...
Posted by Amy R at
With Mother's Day coming up soon, we invite you to share a memory of experiencing tea with your mother or with your kids. Leave a comment on our Facebook page and we'll have a drawing from the submissions on May 4, 2015. The winner will receive 2 ounces of Blueberry tea and a box of Dilettante Ephemere Chocolate Truffles. The deadline for submission is May 3 at midnight PDT (US residents only). And remember to use the promo code: FORMOM15 to receive 15% off all items on LizzyKate.com. Please share with your Facebook friends!
Posted by Amy R at
Mother's Day is just around the corner and we're celebrating all of the wonderful moms out there with 15% off all teas, teaware, chocolate and accessories at LizzyKate.com*! Use the promo code: FORMOM15 (expires May 9).Here are some ideas to get you started or to pass along as hints to kids and husbands: Tea + Dilettante Chocolate Gift Sets make a thoughtful, delicious Mother's Day gift for the special mom in your life. 3 Tea Gift Sets include an assortment of tea packaged in an attractive gift box. Choose from different types of tea: black, green, and herbal. Iced Tea...
Posted by Amy R at
Happy Winter Break to everyone with school aged kids! If you've run out of time for ordering items to be shipped and prefer to shop from the comfort of your home, we have two great gift ideas for you: $20/mo Tea of the Month Club: starting in January, your gift recipient will receive three specially selected teas. The 1 oz size of each tea makes 10 8-oz cups for a total of 30 cups per month. Plus we'll include a free gift, the LizzyKate Tea Infuser with 2 Handles ($5.20 value), in the January package (new subscribers only). You have...
Posted by Amy R at
Happy Cyber Monday Sale! Remember when you saved your Internet shopping for the Monday after Thanksgiving because the connection at work was faster than home? Even though most of us can now shop at home from any number of devices, we still think it's a great excuse for a sale. Between now and Monday, Dec. 1 at midnight, save 10% on all items at LizzyKate.com with the discount code: CYBERMONDAY This week we're featuring a new item on our site: 3 Tea Gift Set. These sets make great holiday gifts, hostess gifts and gifts for your co-workers or clients. Featuring about 1 ounce each of three of our most popular teas, packaged...