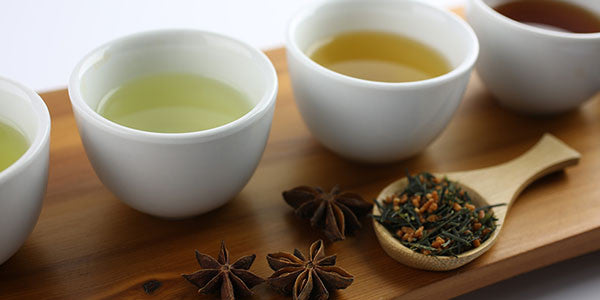 Posted by Amy R at
Tea plus the holiday season make a great combination! Here are some ideas to incorporate tea into your holiday meals and entertaining: Flavored black teas like the popular Marzipan and Earl Grey Cream make a great base for tea lattes to serve with a holiday breakfast or brunch. Black teas and oolongs pair well with appetizers, rich cheeses and meat dishes. Green teas go well with salads and lighter dishes and meals. Fruity and herbal blends make great dessert teas and are also a nice option for kids and others who are looking for a non-alcoholic drink with flavor. We...
Posted by Amy R at
Friends and customers often ask us for a tea recommendation to help them feel better when they're sick with a cold. In our opinion, any warm tea is soothing to your throat, especially with a little honey added! Here are some blends you can purchase in the shop and online which we recommend for colds (note that Moroccan Mint is the only one with "true tea" in it, while the others are non-tea herbals). Citrus Sunset: this wellness blend includes bits of apples, oranges and carrot pieces as well as eucalyptus leaves which may bring relief as you're drinking it and...
Posted by Amy R at
Many people confuse the terms "decaffeinated" and "caffeine-free" when it comes to tea. Decaffeinated refers to tea leaves from the camellia sinensis plant which have had the caffeine removed. There may still be some tiny trace of caffeine in the tea, but the vast majority is removed. Caffeine-free blends (also known as herbal infusions) are those without any tea leaves. These blends contain herbs, flowers, dried fruit and spices. All of our decaffeinated teas are decaffeinated using the CO2 process. The caffeine is removed but the tea flavor remains. Decaffeinated teas are a great option if you, a family member...
Posted by Amy R at
Most Americans use the term "tea" for any type of warm drink made from tea leaves or herbs. Technically, only "true tea" which is made from the leaves of the tea plant (camellia sinensis) should be called tea. Herbal and other blends from non-tea plants are called herbal infusions or by their plant name (rooibos, honeybush, chamomile, etc.) At LizzyKate we carry about ten blends with either red or green rooibos as an ingredient. Some interesting rooibos facts: Rooibos is a caffeine-free herb that comes from the Rooibos bush which grows near Cape Town, South Africa. It has gained recent...
Posted by Amy R at
This month we're focusing on herbal blends. Also known as herbal infusions or tisanes, herbal blends are not technically teas because they aren't made from tea leaves. Instead they're made from flowers, spices, seeds and other botanical ingredients. Since ancient times, herbals have been used to treat illness and provide relaxation. They're popular with people looking for a warm, relaxing beverage without caffeine. Chamomile is a well known herb for drinking before bedtime either on its own or in a blend. We carry: Chamomile: whole chamomile blossoms Seattle Sunset: chamomile, rosehips, peppermint and many other herbs Weatherproof: aniseeds, chamomile, sage...