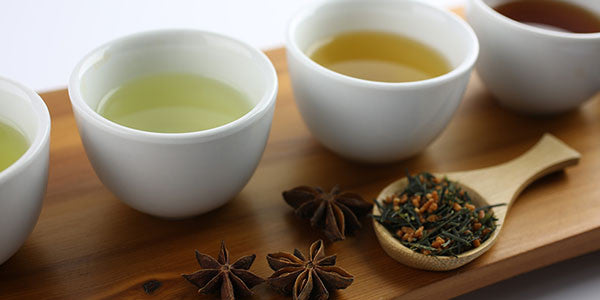 Posted by Will R at
As many of you know, the LizzyKate tea lattes are popular at our Kirkland storefront. If you can't make it into the shop, we wanted to share our recipe for making your own at home. Here's a recipe for 12 oz hot tea lattes. Steep 1 tablespoon of loose leaf tea in 8 oz of water. Follow the normal directions for water temperature and steep time on the LizzyKate package. The amount of tea will vary by tea type (less tea for a compact tea like a rolled oolong and more tea for a fluffy white tea). Add sweetener to...
Posted by Will R at
What is matcha? Matcha is a powdered tea made from a type of green tea called tencha, a partially shade-grown green tea, specifically produced for matcha. After harvesting, tencha is deveined, de-stemmed, and ground to make matcha. Beginning in the 12th century, Japanese monasteries and the imperial court in Kyoto used matcha as a ceremonial beverage. Although it continues to be used for tea ceremonies, over the past few years matcha has grown in popularity as a health food and culinary ingredient. You may have noticed matcha lattes, matcha cookies, matcha smoothies and much more in cafes and restaurants. We...
Posted by Will R at
With the weather turning cooler, we've seen more customers turning to hot tea rather than cold brew. In September, we launched our Special-Tea Latte menu in our tea shop in downtown Kirkland, and the lattes have been very popular ever since. After much taste testing, we've come up with the following recipe for 12 oz tea lattes. Steep 1 rounded tsp of loose leaf tea in 8 oz of water Add sweetener to taste (honey, simple syrup, or sugar) Add 4 oz of steamed milk (2% cow's milk, almond milk, soy milk or coconut milk). If you don't have a...
Posted by Amy R at
Matcha is one of the few teas made from powdered leaves. As noted in this matcha blog post, matcha is made from Tencha green tea leaves. The tea plants are shaded by tarps for a few weeks before the harvest. This boosts the chlorophyll, amino acids and other flavor compounds in the tea leaves. One amino acid called L-Theanine provides a relaxing effect when you drink matcha and other green teas. Matcha has a clean vegetal flavor and sometimes people describe it as an acquired taste. If you haven't tried matcha before, you may want to try it in a recipe...
Posted by Amy R at
Due to a great response to the Peppermint Bar recipe from the holidays, I decided to try modifying it for Valentine's treats. Instead of the candy canes, I used red, pink and white Valentine M&Ms. You could serve these for a Valentine's Tea with friends or at a larger party. We recommend pairing these bars with a mellow tea like Kenilworth Ceylon black tea or Chocolate Honeybush (caffeine-free).  Ingredients3 cups flour1 teaspoon baking soda½ teaspoon salt1½ cup unsalted butter melted and cooled slightly1 cup sugar⅔ cup brown sugar2 teaspoons vanilla 2 cups Valentines M&Ms 1 cup brown or white chocolate...
Posted by Will R at
The Super Bowl is almost here! As loyal Seahawks fans, the LizzyKate Team will be drinking hot green tea and cold brewed blue-berry tea. We plan to start our day with Sencha Asamushi green tea. There's caffeine in it to jumpstart the day and also the amino acid L-theanine which is a brain calmer and helps you avoid the type of crash coffee can give you. The night before the big game we'll cold brew two 2-quart pitchers of Blueberry Fields tea. For each 2-quart pitcher, add 6-8 heaping teaspoons of the loose leaf tea to a paper Tea Filter...
Posted by Will R at
Last week we hosted our launch party and invited over a bunch of family and friends to help us celebrate. Of course, we had a number of different teas for people to try and they all seemed to enjoy them.  We also had three different cocktails that we put out and many folks asked for the recipes. Here they are:   Blueberry Bomb Equal parts Grand Marnier and Amaretto Add approximately a 5-to1 ratio (mix to your taste) of cold brewed Blueberry Fields Add a generous splash of grenadine Add a less generous splash of Rose's Lime Juice Arnie's Slice Gin...
Posted by Amy R at
December is flying by. So far this month we've celebrated the one month anniversary of our LizzKate's online store, shipped your orders all over the US, mailed the December Tea of the Month teas and hosted a 'Teas the Season holiday party. Is it January yet?! Based on informal feedback from the party, some of the favorite teas were White Christmas, Decaf Hot Cinnamon Spice, Kenilworth Ceylon, and Mango Green! The tea cocktails were also well received and we'll be posting those recipes soon. Here's the recipe for the very popular Peppermint Bars which many people requested. Ingredients3 cups flour1 teaspoon baking soda½ teaspoon salt1½ cup...