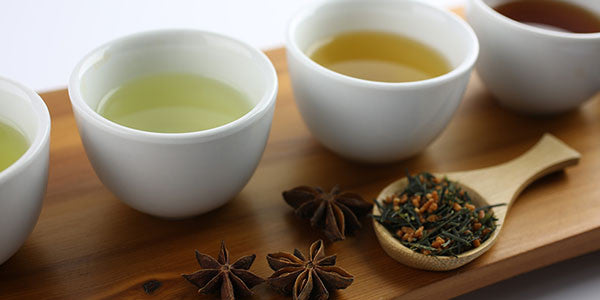 Posted by Will R at
As many of you know, the LizzyKate tea lattes are popular at our Kirkland storefront. If you can't make it into the shop, we wanted to share our recipe for making your own at home. Here's a recipe for 12 oz hot tea lattes. Steep 1 tablespoon of loose leaf tea in 8 oz of water. Follow the normal directions for water temperature and steep time on the LizzyKate package. The amount of tea will vary by tea type (less tea for a compact tea like a rolled oolong and more tea for a fluffy white tea). Add sweetener to...
Posted by Amy R at
Tea plus the holiday season make a great combination! Here are some ideas to incorporate tea into your holiday meals and entertaining: Flavored black teas like the popular Marzipan and Earl Grey Cream make a great base for tea lattes to serve with a holiday breakfast or brunch. Black teas and oolongs pair well with appetizers, rich cheeses and meat dishes. Green teas go well with salads and lighter dishes and meals. Fruity and herbal blends make great dessert teas and are also a nice option for kids and others who are looking for a non-alcoholic drink with flavor. We...
Posted by Will R at
You may have heard iced tea was invented at the 1904 World's Fair in St. Louis. From our research, it's more appropriate to describe it as "iced tea was popularized" at the Fair because recipe books and other materials refer to iced tea long before 1904. Since the late 1800s, Americans in the southern part of the US have enjoyed cold tea. They would let hot tea cool down in the summertime and drink the cooler tea. If they could afford ice, they added ice to cool it even more. At the World's Fair in 1904 an Englishman named Richard...
Posted by Amy R at
How much caffeine is in a cup of tea? That's a great question and difficult to answer because it depends. It depends on the type of tea, the water temperature, the ratio of tea to water, and the length of steeping time. We know that isn't a satisfactory answer so we'll share as much as we've learned in our research of the common questions about caffeine and tea. How does the caffeine in tea compare to the caffeine in coffee? On average coffee contains 2-3 times the amount of caffeine as tea. The caffeine in tea is the same as...
Posted by Amy R at
A common questions in the shop is: do we have a traditional English Breakfast tea? As with most tea subjects, the answer is not a simple "yes" or "no." Here's what we learned while researching the interesting history of breakfast tea blends. In the 1700s all black tea in Britain was imported from China. Tea was expensive and only the upper class could afford it. Over time, the price came down and people switched from ale to tea with their breakfast. Breakfast teas were simple black teas for middle-class consumers to begin their day. Originally these breakfast teas consisted of Chinese...
Posted by Amy R at
Friends and customers often ask us for a tea recommendation to help them feel better when they're sick with a cold. In our opinion, any warm tea is soothing to your throat, especially with a little honey added! Here are some blends you can purchase in the shop and online which we recommend for colds (note that Moroccan Mint is the only one with "true tea" in it, while the others are non-tea herbals). Citrus Sunset: this wellness blend includes bits of apples, oranges and carrot pieces as well as eucalyptus leaves which may bring relief as you're drinking it and...
Posted by Amy R at
This month is the four year anniversary of the LizzyKate online store and the Tea Club! Whether you were in the inaugural group of online customers and tea club subscribers four years ago or joined along the way, we sincerely thank you for your support and enthusiasm. Many of you have ordered tea gifts online and shared LizzyKate teas with your friends and family, and we are very grateful. For our November and December tea clubs, we selected teas that pair well with holiday sweets and perhaps could even substitute for rich dessert. Tea is a great addition at holiday...
Posted by Amy R at
Most Americans use the term "tea" for any type of warm drink made from tea leaves or herbs. Technically, only "true tea" which is made from the leaves of the tea plant (camellia sinensis) should be called tea. Herbal and other blends from non-tea plants are called herbal infusions or by their plant name (rooibos, honeybush, chamomile, etc.) At LizzyKate we carry about ten blends with either red or green rooibos as an ingredient. Some interesting rooibos facts: Rooibos is a caffeine-free herb that comes from the Rooibos bush which grows near Cape Town, South Africa. It has gained recent...
Posted by Amy R at
For a long time we've talked about offering tea sampler sets to allow you to try smaller quantities of multiple types of tea. It was tough to choose which teas to include but we made it happen in time for the holiday season! Each set comes with four 1-ounce samples in a kraft box with our signature tissue paper inside and wrapped in a silver ribbon! These sets are great for any tea lover or tea novice looking to try some fantastic teas. But how do you know which one(s) to choose for yourself or for a gift? Here are...
Posted by Amy R at
Due to a great response to the Peppermint Bar recipe from the holidays, I decided to try modifying it for Valentine's treats. Instead of the candy canes, I used red, pink and white Valentine M&Ms. You could serve these for a Valentine's Tea with friends or at a larger party. We recommend pairing these bars with a mellow tea like Kenilworth Ceylon black tea or Chocolate Honeybush (caffeine-free).  Ingredients3 cups flour1 teaspoon baking soda½ teaspoon salt1½ cup unsalted butter melted and cooled slightly1 cup sugar⅔ cup brown sugar2 teaspoons vanilla 2 cups Valentines M&Ms 1 cup brown or white chocolate...
Posted by Will R at
Last week we hosted our launch party and invited over a bunch of family and friends to help us celebrate. Of course, we had a number of different teas for people to try and they all seemed to enjoy them.  We also had three different cocktails that we put out and many folks asked for the recipes. Here they are:   Blueberry Bomb Equal parts Grand Marnier and Amaretto Add approximately a 5-to1 ratio (mix to your taste) of cold brewed Blueberry Fields Add a generous splash of grenadine Add a less generous splash of Rose's Lime Juice Arnie's Slice Gin...
Posted by Amy R at
December is flying by. So far this month we've celebrated the one month anniversary of our LizzKate's online store, shipped your orders all over the US, mailed the December Tea of the Month teas and hosted a 'Teas the Season holiday party. Is it January yet?! Based on informal feedback from the party, some of the favorite teas were White Christmas, Decaf Hot Cinnamon Spice, Kenilworth Ceylon, and Mango Green! The tea cocktails were also well received and we'll be posting those recipes soon. Here's the recipe for the very popular Peppermint Bars which many people requested. Ingredients3 cups flour1 teaspoon baking soda½ teaspoon salt1½ cup...
---