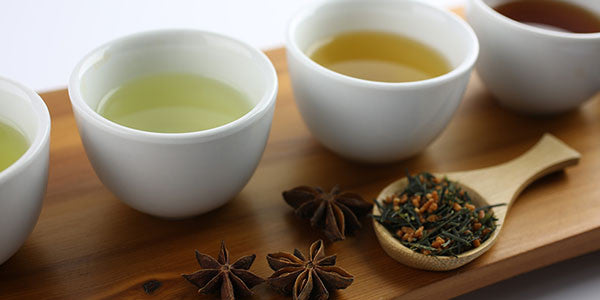 Posted by Amy R at
How much caffeine is in a cup of tea? That's a great question and difficult to answer because it depends. It depends on the type of tea, the water temperature, the ratio of tea to water, and the length of steeping time. We know that isn't a satisfactory answer so we'll share as much as we've learned in our research of the common questions about caffeine and tea. How does the caffeine in tea compare to the caffeine in coffee? On average coffee contains 2-3 times the amount of caffeine as tea. The caffeine in tea is the same as...
Posted by Amy R at
Many people confuse the terms "decaffeinated" and "caffeine-free" when it comes to tea. Decaffeinated refers to tea leaves from the camellia sinensis plant which have had the caffeine removed. There may still be some tiny trace of caffeine in the tea, but the vast majority is removed. Caffeine-free blends (also known as herbal infusions) are those without any tea leaves. These blends contain herbs, flowers, dried fruit and spices. All of our decaffeinated teas are decaffeinated using the CO2 process. The caffeine is removed but the tea flavor remains. Decaffeinated teas are a great option if you, a family member...
Posted by Amy R at
Most Americans use the term "tea" for any type of warm drink made from tea leaves or herbs. Technically, only "true tea" which is made from the leaves of the tea plant (camellia sinensis) should be called tea. Herbal and other blends from non-tea plants are called herbal infusions or by their plant name (rooibos, honeybush, chamomile, etc.) At LizzyKate we carry about ten blends with either red or green rooibos as an ingredient. Some interesting rooibos facts: Rooibos is a caffeine-free herb that comes from the Rooibos bush which grows near Cape Town, South Africa. It has gained recent...
Posted by Amy R at
For a long time we've talked about offering tea sampler sets to allow you to try smaller quantities of multiple types of tea. It was tough to choose which teas to include but we made it happen in time for the holiday season! Each set comes with four 1-ounce samples in a kraft box with our signature tissue paper inside and wrapped in a silver ribbon! These sets are great for any tea lover or tea novice looking to try some fantastic teas. But how do you know which one(s) to choose for yourself or for a gift? Here are...
Posted by Will R at
The Super Bowl is almost here! As loyal Seahawks fans, the LizzyKate Team will be drinking hot green tea and cold brewed blue-berry tea. We plan to start our day with Sencha Asamushi green tea. There's caffeine in it to jumpstart the day and also the amino acid L-theanine which is a brain calmer and helps you avoid the type of crash coffee can give you. The night before the big game we'll cold brew two 2-quart pitchers of Blueberry Fields tea. For each 2-quart pitcher, add 6-8 heaping teaspoons of the loose leaf tea to a paper Tea Filter...