Lizzy's Corner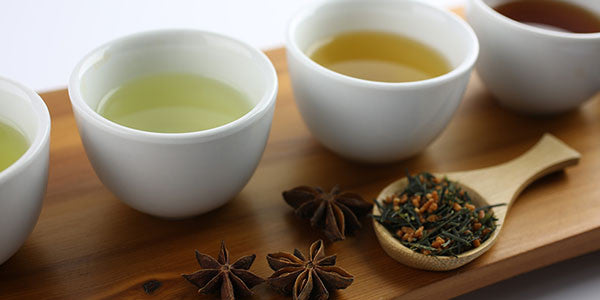 Posted by Will R at
What is matcha? Matcha is a powdered tea made from a type of green tea called tencha, a partially shade-grown green tea, specifically produced for matcha. After harvesting, tencha is deveined, de-stemmed, and ground to make matcha. Beginning in the 12th century, Japanese monasteries and the imperial court in Kyoto used matcha as a ceremonial beverage. Although it continues to be used for tea ceremonies, over the past few years matcha has grown in popularity as a health food and culinary ingredient. You may have noticed matcha lattes, matcha cookies, matcha smoothies and much more in cafes and restaurants. We...
Posted by Amy R at
One of the most popular questions in the shop is: do we have a traditional English Breakfast tea? As with most tea subjects, the answer is not a simple "yes" or "no." Here's what we learned while researching the interesting history of breakfast tea blends. In the nineteenth century, British tea companies such as Lipton and Twinings created blends of Chinese black teas for British tea drinkers, often using Keemun or Yunnan. English breakfast blends were made to be simple, early morning teas for middle-class consumers.  In the mid- to late-nineteenth century British tea companies began to import tea from India...
Posted by Amy R at
This month is the four year anniversary of the LizzyKate online store and the Tea Club! Whether you were in the inaugural group of online customers and tea club subscribers four years ago or joined along the way, we sincerely thank you for your support and enthusiasm. Many of you have ordered tea gifts online and shared LizzyKate teas with your friends and family, and we are very grateful. For our November and December tea clubs, we selected teas that pair well with holiday sweets and perhaps could even substitute for rich dessert. Tea is a great addition at holiday...
Posted by Amy R at
Many people confuse the terms "decaffeinated" and "caffeine-free" when it comes to tea. Decaffeinated refers to tea leaves from the camellia sinensis plant which have had the caffeine removed. There may still be some tiny trace of caffeine in the tea, but the vast majority is removed. Caffeine-free blends (also known as herbal infusions) are those without any tea leaves. These blends contain herbs, flowers, dried fruit and spices. All of our decaffeinated teas are decaffeinated using the CO2 process. The caffeine is removed but the tea flavor remains. Decaffeinated teas are a great option if you, a family member...
Posted by Amy R at
Most Americans use the term "tea" for any type of warm drink made from tea leaves or herbs. Technically, only "true tea" which is made from the leaves of the tea plant (camellia sinensis) should be called tea. Herbal and other blends from non-tea plants are called herbal infusions or by their plant name (rooibos, honeybush, chamomile, etc.) At LizzyKate we carry about ten blends with either red or green rooibos as an ingredient. Some interesting rooibos facts: Rooibos is a caffeine-free herb that comes from the Rooibos bush which grows near Cape Town, South Africa. It has gained recent...
Posted by Will R at
With the weather turning cooler, we've seen more customers turning to hot tea rather than cold brew. In September, we launched our Special-Tea Latte menu in our tea shop in downtown Kirkland, and the lattes have been very popular ever since. After much taste testing, we've come up with the following recipe for 12 oz tea lattes. Steep 1 rounded tsp of loose leaf tea in 8 oz of water Add sweetener to taste (honey, simple syrup, or sugar) Add 4 oz of steamed milk (2% cow's milk, almond milk, soy milk or coconut milk). If you don't have a...
Posted by Will R at
This month's tea club includes a tea we named Mt. Fuji Noir. It's a Japanese black tea which is very unusual to find in Japan, much less in the US. Last year Amy discovered this tea on a tea tour of Japan that started in Tokyo and ended on the island of Kyushu. As you can imagine, the tour members taste tested many types of green tea including sencha, gyokuro, genmaicha, and matcha all day, every day.  Partway through the tour, one of Japanese tea companies served a black tea to the group. Everyone tasted the tea, smiled and quickly...
Posted by Amy R at
I have been a tea drinker all of my adult life, but before I became a serious tea drinker, I didn't give much thought to where tea came from. I assumed that tea bags and the contents were made in a factory. I never thought of tea as an agricultural product until I started taking tea classes. Once I learned that tea comes from the processed leaves of the camellia sinensis plant, a whole new world opened up for me. The various types of tea (black, white, green, oolong and puerh) are all made from tea leaves and for the...
Posted by Amy R at
We spent most of July settling into our new space. Early on we met with Beth Gale of the Kirkland Chamber of Commerce and started planning our Grand Opening. Beth arranged for Penny Sweet of the Kirkland City Council to do the honors of cutting our ribbon and welcoming us to the Kirkland business community.  Our staff did an amazing job of helping to set up, serve tea, chat about tea and clean up. We couldn't have done it with them!   And thank you to Chocolatier Alex Long of Seleuss Chocolates for bringing his delicious chocolate to pair with...
Posted by Amy R at
After the months of design plans, construction, and moving, we're happy to be in our colorful tea shop! Every day brings a new mix of friends, family, new customers, and regulars. Here are some pictures from the first weeks and customer quotes that brought a smile to our faces. This is the BEST tea I have ever tasted. ~ Cody, age 7 after trying Fruity Mango Look at all the flavors. This shop is like the Baskin Robbins of tea! ~ Sheerya You will be happy to know that my two boys are now accusing each other of hogging all...
Posted by Amy R at
We're excited to announce we're doing a soft opening Saturday, July 9 from 10-6 and Sunday, July 10 from 12-5!       If you come this weekend, please be patient as we figure things out! The address is 115 Kirkland Ave, Kirkland. See the Find Us page for directions and parking info.
Posted by Will R at
Well, things have been busy, and although our schedule has slipped a little (as it always seems to in construction), they are moving along nicely! We're pushing hard to be ready for our Health Department inspection next week. Since my last post a lot has happened! The rough ins of all of the electrical and plumbing were completed and all of the wall board has gone in: and been taped and mudded:   then finished and primed and painted in some places! We also have the tile floor in:   The new counter top came in today (it's just resting in place...
---